So one night, like any good fashionista should- I was flicking through my contacts on Flickr; because lets face it someone always has something you want. Unless you have everything, and in that case someone always wants what you have...must be nice. Back to my story, so I was looking at said hair and skin extroidinaire (Oh and if you can guess who the designer is, I'll even buy you a pair of shoes. A size big, because that way you will never wear the same shoe as me but they are shoes nonetheless. HINT: Its NOT Valena Glushenko, who is currently my favority jewelery designer.) and I saw these shoes I had to own immedietly. Was not so immediate though, I thought I was looking for this store called 'Force!' but that wasn't really the name it was more, 'FORCE'. I'm sure you see the confusion, no?

So once I finally find this place I'm even more excited than I was before because well the shoes were an amazing color but their price was even more amazing. I even joined the Update Group, that kind of shows my dedication I do believe. So ladies, yes men stay away unless you're footing the bill- in that case you are so welcome. Kindest regards. So enough of what I have to say, for a short while I wanna be the girl or second girl to have everything!

One more thing, I said the prices were really great; there were what seemed like a nice pair of capris, I have never been one to fancy them myself but I know some of you do. There was also what appeared to be some really nice denim and for only L$100 but after organizing my inventory and realizing that I needed an entire folder for denim I didn't need to add to it but I really wanted to, "Long and tight," plus prim leg attachments. Goo goo, gah gah!

Before I get to the credits I want to add, that I had written this post prior to purchasing, and I'm not sure what the issue was but with the shoes there are several 'invisible' pieces and maybe they weren't properly aligned but the foot was out of the bottom and the shoe didn't seem to fit? To me it looked like it was too small or not tall enough despite editing it, although no I didn't make it seven feet tall. So if you're in the market for these shoes that come in bright yellow, lime green, purple, bright blue, and black. I hope you're in the mood for some touchups, they were fine for me, but I am a self-proclaimed fit edit lover.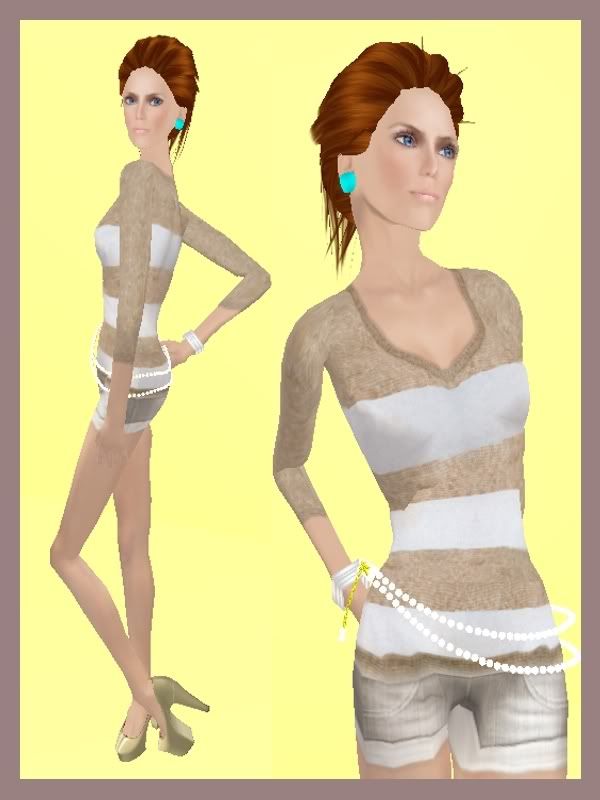 While I was there I couldn't resist the fatpack of Long Wooly Sweaters, they are really light you can wear them when there is a slight chill to warm up and when you want to wear it to look hot you won't think to yourself, "I'm so hot, in the sweat variety," plus the colors are perfect for summer so you really can't go wrong. Of course it was affordable to so no worry there.



OUTFIT CREDITS
FORCE items:
Desire Pumps in Red
Long Wooly Sweater in Rust
SKIN:MMS FairDiva Makeup 4
HAIR:MMS Keira in Ginger
EYES:Miriel Blue Ice(Big)
LASHES:MMS Photoshoot Lashes
MANICURE: J's Natural French Tip set02
EARRINGS: Diamonde. Block Earrings
BRACELET:Diamonde. Miabella Bracelet
photo set1
TANK: Surf Couture Spring Fligng Button Tank in Marshmallow
DENIM: Sh*t Happens Faded Jeans Skinny Fit in Brown
UNDERSHIRT: <3>


NECKLACE: VG Republic Resin & Chain Link necklace in Coral





photo set2




SHORTS: Armidi Gisaci Dans la Ville Shorts in White




BELT: in the light - first pearl belt




SHOES: Tesla Pricilla Beige (charity item at main store)